Everything to Know About Dr. Fuzayloff: World Renowned STD Specialist
Posted by andywang on Jan 12, 2021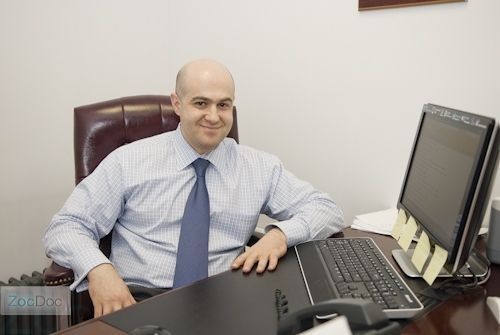 There's no one more qualified to provide you with the best possible health care than your trusty primary care doctor. Yeah, those selfless individuals who spend their entire lives learning and practicing how best to help you and your loved ones live healthily. Not all heroes wear capes, they say, and this is undeniably true for world-renowned STD specialist Dr. Slava Fuzayloff.
If you look back at all the times you've fallen ill in the past, you'll quickly realize that there's nothing more important than being healthy. In a world as dangerous, unpredictable, yet full of promiscuity as ours, with diseases and illnesses cropping up from every corner, our sexual health has to be one of the most important things to care about.
According to the World Health Organization, over 1 million people acquire sexually transmitted infections (STIs) every day worldwide, and an estimated 376 million new infections are recorded every year. These numbers are huge; that's why Dr. Slava Fuzayloff, an experienced STD specialist, has dedicated his life to helping keep those numbers down.
But who's Dr. Fuzayloff, and how is this one man spearheading the battle against Sexually Transmitted Infections in all their different shapes and forms? Well, you're about to find out.
Educational Background
Behind every successful man are many more years of relentless study, grabbing all the knowledge he possibly can. For a medical doctor, those years get even longer to ensure perfection.
Thus, Dr. Fuzayloff's journey to the pinnacle of medicine began by acquiring a degree in Biology from St. John's University in New York, after which he enrolled for a medical degree at the New York College of Osteopathic Medicine in 2002.
Being a competent, energetic, and highly dedicated man, Dr. Fuzayloff graduated with honors in Pathology and Nephrology, making him an expert in the study of body tissues and ailments that affect the kidneys. After medical school, he completed his residency in Internal Medicine at the New York Hospital of Queens, Residency Hospital in 2005. There, he trained extensively at the Memorial Sloan-Kettering Hospital, renowned for its cancer care facilities.
During this extensive training period, Dr. Fuzayloff discovered his passion for preventive medicine, a branch of medicine that aims to promote health, well-being and prevent infectious diseases. Fast forward 19 years later, he's a board-certified award-winning internist and STD specialist residing in New York, NY.
Dr. Fuzayloff's Career
Dr. Slava Fuzayloff's career as an Internist and a board-certified primary care doctor kicked off right away after his tertiary education. Becoming board-certified in Internal Medicine is an incredible feat for him. It means that he has been considered highly skilled and experienced in dealing with all manners of diseases.
Dr. Fuzayloff has built a strong reputation for himself as the go-to STD specialist in New York City, and he is a Diplomat of the American Board of Internal Medicine. He works closely with other hospitals in New York City with a keen interest in sexually transmitted diseases and general internal medicine because of his vast experience.
He remains an active member of the American Medical Association, the American Osteopathic Association, and the New York State Medical Association. Because learning is a continual process for a medical doctor, this provides the best opportunity for him to stay up-to-date with the latest medical news, advancements in medicine, and technological advances in sexual health and internal medicine.
Personal Life
You know what they say about all work and no play. Dr. Fuzayloff' may have fallen in love with internal medicine, but you ever wondered what happens when he isn't working? Good question.
He enjoys relaxing his mind and body with long, comforting hikes through New York's abundant and beautiful woodlands. He may not be half as good as the great Wayne Gretzky, but Dr. Fuzayloff does enjoy playing the game of Ice hockey occasionally.
Achievements
For all his hard work and remarkable service, Dr. Fuzayloff has won three awards for his dedication to the field of medicine. These include the Teaching Assistance in Pathology award 1989, Honors in General Pathology 1997, and Honors in Renal Pathology. This is no mean feat for an Internist, and it's proof of how extraordinary and consistent Dr. Fuzayloff has been, amassing a work experience of over 19 years.
Final Thoughts
Sir William Osler once said, "The good physician treats the disease; the great physician treats the patient who has the disease." One standout character that has earned Dr. Fuzayloff a great reputation, helping him climb up the success ladder in the field is his dedication to his patients' well-being. He is not only extremely knowledgeable and experienced, but his attitude and communication skills prove how committed he is to his patients' health and happiness.
If health is indeed wealth, then with Dr. Slava Fuzayloff, your entire internal health has never been in better hands.