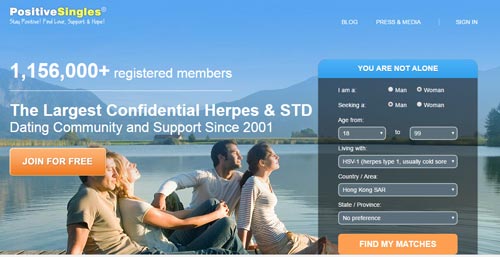 If you are a single who has a sexually transmitted disease (STD), you have probably experienced that meeting new people, making friends, dating, and finding love or a long-term relationship can be a difficult and frustrating challenge. Not only is it hard to meet interesting and exciting people, but having an STD complicates the dating process and can make it hard to create lasting relationships. Some prospective partners are not accepting of anyone with an STD or cannot get over their own negative biases regarding STDs.
Online dating websites dedicated to people who have STDs offer a convenient and safe alternative for you to meet others, make new friends in your area, and search for romance and love. More and more active singles are using these sites to meet new people and start exciting relationships.
PositiveSingles.com is the world's largest dating site for singles with any sexually transmitted disease. Founded in 2002 as much more than only a dating site for STD positive singles, the site's vision is to provide a safe and supportive community where members can connect with each other, find support and information, be uplifted, enjoy safely dating with a sexually transmitted disease, and discover love and a long term relationship.
There are many reasons that singles with STD enjoy becoming members of PositiveSingles.com and have success meeting others, starting new relationships and dating. Following are the top eight reasons that members mention when asked why they choose to become an active member at PositiveSingles.com.
1. Largest Worldwide Membership – at PositiveSingles.com there is a huge, global membership of over 1.1 million people that makes it easy to find and connect with someone in your home town or anywhere around the world that you might travel.
2. Welcoming Community – the membership is very friendly, active and welcoming. It is made up of people just like you who have an STD and want to pursue and active and fulfilling dating life. The site's members that are wholeheartedly accepting of all new members. The community understands the challenges you face, having experienced it themselves. Members are happy to share their experiences and show you around the site.
3. Relationship Possibilities – a world of relationship possibilities is now available. You can discover and pursue many different types of relationships including meeting new friends and finding interesting and compatible people to date. You may even fall in love and discover the long-term relationship of your dreams.
4. Sense of Belonging – after participating at the site for a while and getting to know your way around, you will feel a sense of belonging and quickly begin participating in various activities such as joining groups and sharing in blogs or chat channels.
5. Learning & Education – there is a large amount of educational information available at the website regarding the many types of STDs, how to live with an STD, how to manage your symptoms, and how best to protect your sexual partners. There is always a wide variety of free material available with more being added regularly.
6. Tips & Advice – through PositiveSingles.com's many blogs, chat rooms and personal chat channels, you can ask for and receive interesting and helpful advice from other members who have experienced everything you have and faced the same issues. No topic is off limits and everyone is eager to offer support and encouragement.
7. Boosted Self Confidence – through the site you will meet others who share the same experiences as you and you can learn about living a more fulfilling life with your disease. These contribute to improved feelings of self-worth and self-confidence, building your esteem.
8. Safety & Security – PositiveSingles.com takes personal privacy very seriously. Members are not required to submit any information they are not comfortable with and all personal information is private and anonymous until the member allows it to be shared.
For any single that is living with an STD and wants to get started now with a more fulfilling, safe and interesting dating life, or search for their true love, there is no better time than today to create an account at PositiveSingles.com. The website offers a wealth of information and advice about many STDs, is filled with a supportive community of members, and features topical blogs with useful information.
To learn more about PositiveSingles.com or join its worldwide community of welcoming members, please visit https://www.positivesingles.com/