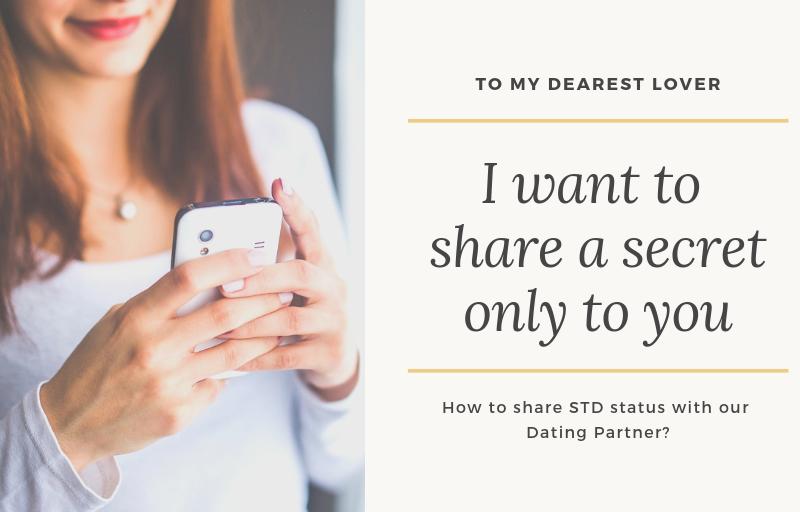 How to Share STD Status With Our Dating Partner?
It is crucial that you inform your dating partner because they are supposed to know they are at risk of getting infected. But get tested first. Then get prepared about the disease and cautions about dating. And before have sex while dating, it is most important to confirm the STD status with your dating partner. Ask and get STD tested are recommended. Tell them your story and talk about prevention methods could greatly help with your relationship. Blame is meaningless. 
First, Get Tested
Having a sexually transmitted disease (STD) not only affects the body but also puts a strain on the infected individual emotionally. A lot of STDs are curable and those that cannot be cured get treated such as HIV/AIDs and herpes. Nonetheless, STDs need to be treated for them to go away otherwise they are capable of causing permanent problems to the patient's body. STD dating is at risk and that is why communication is important so as to know the way forward.
The need to talk about your status with your partner
When you test positive for STDs, it is crucial that you inform your partner because they are supposed to know they are at risk of getting infected. There is a risk you might lose them or they may get angry, however, it is a risk you have to take. You need to inform your partner about the type of STD you are infected with e.g. gonorrhea, secondly, you should tell them how you got infected for instance you got it from another infected partner. Thirdly, you should inform your partner about how STDs are spread, STDs mostly spread through contact with body fluids of infected individuals such as semen or vaginal fluids. Additionally, getting in contact with infected skin or mucous membranes may lead to infection. This information will be the basis of how you carry on with your relationship, like whether you will continue being with each other or not.  
 Why should we tell our dating partner our STD status?
First and foremost, it is illegal to not inform your partner about your STD status in some states
If not treated early, some STDs can affect the fertility of an individual
In some cases, some STDs are life-threatening particularly when they are not identified and treated.
When an infected person gets treated while his/her partner doesn't, it might result in reinfection.
Informing a potential partner will help them in making informed decisions such as taking steps to avoid infection so as to protect their health.
You will be giving a former or present partner a chance to check whether they are okay or also infected.
 How to confirm they accept it before saying"I'm STD positive, but continue to go dating with me"?
After telling your partner about your condition, the most important thing that you can do is listening to what to say regarding what they are concerned about, their fears and also make sure to tell them about the symptoms. In case you and your partner are participating in sexual intercourse, you are required to stop until you see a medical practitioner to know the way forward because dating with STD can be dangerous to both of you.
How to require them to share STD status with us?
When you see that your relationship is about to head to the next level, that is having sexual relations, it is important that you know their sexual history too, so here are the ways to do it.  
Do not be afraid to ask the question, just be straight up with your partner and see what happens next. Research shows that many people have a tendency to lie especially when you are engaging in casual sex, however, others can tell you the truth. However, getting an honest answer does not mean you are 100% safe because sometimes a person can be infected without knowing.   
Getting tested and sharing it with your partner will make the partner tell you the truth in return because you are showing them that they can trust you.
You should also tell your partner about your health history so that they may know and find a way of handling the situation, particularly in cases where you have diseases such as HIV/AIDs as well as Herpes which never get fully treated.
Talk about prevention methods
To prevent future infection, you can get vaccinated for diseases such as HPV (human papillomavirus), in addition to using condoms. You and your partner should also agree on family planning methods, using condoms is the safest way of preventing STDs before fully knowing both your STD status.
When you discover later on that you have been infected with an STD, it is important that you do not place blame; some people can be malicious and intentionally infect others, in such cases, it is critical that you get cured and be more careful next time.