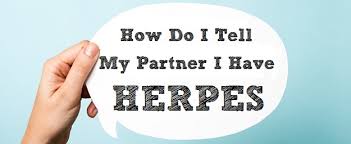 Dating with herpes could be a tough phase of your life, and if you already have a partner, it's best that you choose the right moment and break the news to them about it ASAP. But wait, it doesn't have to be like "Hey, I have to talk to you about something and it's very serious". That's how you usually deliver the news about someone's death or when you are up for some argument.
Picking up the right time to tell your partner could leave you with a very high chance that your relationship would work out. But even then, it all gets down to how you are going to tell them.
Just imagine how you would want your partner to know about the news. Do you want to make it sound like a big problem? It shouldn't. Living with herpes doesn't have sound like this: "I have some terrible news for you". If you perceive it to be a terrible news, your partner is certainly going to believe the same. You have to be casual, unemotional and indirect, but at the same time, you don't have to sound impolite.
Also, you should really avoid how they should respond to the news, and don't ever say to them "You are really going to freak out hearing what I have to tell you, but don't panic". Your partner is definitely going panic with this kind of attitude, even if they weren't.
Telling your partner that you have herpes is as simple as saying "My doctor recently ran some tests and he told me that I might have virus that causes herpes". Simple and effective and no panicking involved. However, before you tell them what I just told you, it's important that you educate yourself as much as you could about herpes; after all, you will be living with herpes for sometime.
Learn About Herpes
This part won't only help your partner to understand your condition better, but would also help you realize that it isn't something anomalous, especially when you are living in US where every one in five adults have herpes. But apart from all this, you might also want to know what herpes is about and how it affects the person contracting it. You also must educate yourself about the symptoms associated with herpes, as your partner is going to ask you about them or when you will be dating with herpes. Sometimes, the symptoms could be visible with sores all over the genitals, but in some cases, the would hardly be noticeable. Then, your partner might also want to know if the you could continue your sex life while you have herpes, so you will also need to visit your doctor to learn what's safe and what's not.
For a starter package on sex and dating during herpes, use these tips:
.• If you have oral herpes, you would need to avoid mouth-to-mouth, or mouth-to-genital sex. And if you have genital herpes, you could still have safe sex to some degree by using latex condoms.
• Genital-to-genital or mouth-to-mouth aren't the only ways to fulfill your sex life. You could also try mutual masturbation which is almost risk free. You two could masturbate side by side and can help each other with masturbating.
• Remember not to touch your partner if you have touched a herpes sore.
• No body fluids could be exchanged, remember that.
• You could also use dildos or vibrators if you both are into toys.
Also, remember that the aforementioned are a few things that you might only want to discuss if your partner is showing a willingness to listen to them. You don't have to tell them if they seem uninterested or intimidated hearing the news.
Right Setting Really Matters
It's not just your language that's going to determine the outcome. You might also want to choose the right time to tell your partner about the news. Don't call them while they are at work, or barge into their room while they are in the middle of something.
But there are different comfortable settings that you could make use of. For instance, a conversation over a quite dinner could work or when you are having a walk in the park. Avoid places that could really interrupt their focus or concentration.
The worst time to tell your partner that you have herpes other than after sex is when you two are ready to have sex and your clothes are already off. it could really spoil the mood of your partner. Let the topic come up more naturally; that would really help with avoiding the news to turn into a bombshell. You could use the technique that we discussed earlier about doctor and tests.
It's possible that your partner might take the news badly no matter how comfortably you deliver it. In that case, you don't have to be defensive; it's their prerogative and you have to respect that. But if your relationship is valuable enough, your partner would be ready to face it and continue the relationship.